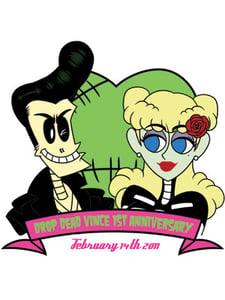 $

2.00 - On Sale
Happy Valentine's Day cats and kittens! But it's not only Valentine's Day for us, it's also the first year anniversary of Drop Dead Vince! Along with our special edition print we also have this special anniversary sticker featuring Vince and Betty together. You can stick it anywhere you want, or even give them out to your friends as valentines!
Each order comes one 2.5" x 2.5" sticker of Betty and Vince on a heart-shaped backdrop.
Postage is included in sales price. Please inquire about overseas shipping.