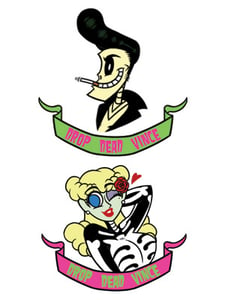 $

2.00 - On Sale
Hey cats and kittens, have you always wanted to have Drop Dead Vince's Vince and Betty with you wherever you go? Well wish no more, your favorite undead teenagers are now available in sticker form! Stick 'em anywhere you want, from notebooks to cellphones or wherever there's room! Just keep 'em close together, you know how lonely Vince gets when Betty isn't around.
Each order comes with two 1.5" x 1.5" stickers of Betty and Vince.
Postage is included in sales price. Please inquire about overseas shipping.